Ah, November the 23rd is coming. Black Friday, the blessed day where people spend money they don't have on things they don't need.
Apart from the usual stampedes, fist fighting and endless riots, Black Friday also includes doorbuster deals and all-you-can-get expeditions. No matter how much we sugarcoat it by putting doorbusters in limelight, we cannot ignore that Black Friday is a toughie.
If you're gearing up for Black Friday, I've penned down the ultimate list of Black Friday Shopping Tips. You must've read the headline "1000 Americans killed trying to get tampons on Black Friday" and you don't want to be there, trust me.
We've got a free printable for you- A special shopping list that keeps track of your Black Friday Spending. Download it now!
Here are 14 super-duper crucial Black Friday Shopping Tips that can make your Black Friday, Christmas, New Year's and whatever comes after that (And yeah, not following them might make it a disaster).
1. Make a Black Friday-centric budget
You've probably made yourself a list and decided what you want from this Black Friday sale, and we're pretty sure you'll spend well above the average of $300 if you're planning to get a whiff of electronics.
To curb your illicit habit of spending what you can't afford, sticking to a budget is numero uno in our Black Friday shopping tips list. I believe that sticking to a budget and not going overboard will save you from a heavy dose of regret later.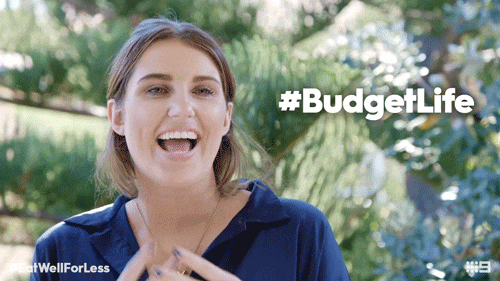 If you feel that you've got too much on your wishlist and too little to spend, you can check out this bit that I wrote- follow it and you can earn up to $1600 to spend on Black Friday D-Day in a matter of two weeks, just like I did.
2. Keep an eye on Social Media
Black Friday offers are generally thrown all over the place by stores, and in these times the best place to pre-sell these deals is on Social Media. You might've noticed 'up to 70% off' banners already while scrolling through Facebook and Instagram.
If you've signed up for loyalty programs at your favorite shopping destinations, you might get an early-bird access to lucrative deals. Sometimes, Black Friday deals are 'leaked' by news websites and that might be a big help in deciding where to go.
Don't forget to go old school though- sign up for newsletters and refer newspapers ads to keep eyes on the prize. By following this Black Friday shopping tip, you can map out which stores to hit according to your needs wants.
3. Gift cards- The Black Friday equivalent of Bitcoin
Not only are gift cards great for, well, gifting, but they can also help you save big if you buy them at the right price. Buying discounted gift cards and cashing them in at full price can be of great use- be it for Christmas, New Years, or Fourth of July.
At this point of time, Raise and Cardpool offers humungous discounts on gift cards. You can use some of these gift cards on Black Friday sale this month. You can get gift cards with full balance at 30% off- from Amazon to Starbucks to Airline miles, everything is at stake.
Buying gift cards at this point of time and using them (or gifting them) later is one of those Black Friday shopping tips that can yield returns almost instantly.
4. Use credit cards that Reward you
Not that this advice is just limited to Black Friday shopping tips melodrama, rather reward credit cards are great when it comes to discretionary purchases of any sort. You can get a new credit card or use your own credit card rewards program.
Credit cards that offer you a reward can turn out to be cherry on top of the Black Friday deals. Refer to your credit card providers' terms and conditions to crack open the rewards program and make the most of it.
If you really want to spend big this Black Friday, you can get a new credit card too! Our favorites are Discover It and Capital One Quicksilver– which offers a minimum 1% and 1.5% cashback respectively on every purchase.
5. Early bird gets the Worm
Black Friday is no longer jam-packed to a single day. The month-long festival of discounts kicks off with the month of November and continues till a week after Cyber Monday. There's a fat chance that all the good stuff is already off shelves when you hit the stores on D-day.
How can you avoid this unfortunate situation? Get online! Check the 'daily deals' section of your favorite retail store's website and make a run for it. Remember those newsletters you signed up for? They can provide you with a back-door access to best deals at respective stores.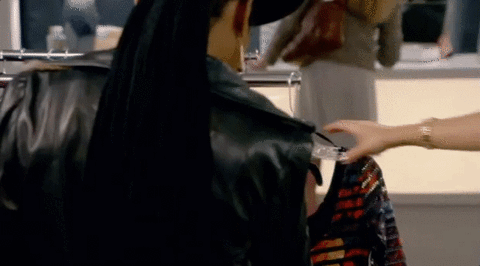 Whatever might be the case, don't just shop on Black Friday; hit a couple of stores while you're driving back home, and some more when you're going to work. This Black Friday shopping tip might leave you surprised!
6. Dig the e-goldmine first
Unlike old times, Black Friday just doesn't happen for a single day. It is something that starts a week before Thanksgiving and you find out on Black Friday that best deals aren't there for you to savor.
Don't worry; you don't need to hit the store every night after 2 o' clock to get the best ones- you can get most of the deals online. Best Buy has the same Black Friday deals online as they do in their store- same goes for Amazon for that matter.
If you're shopping online during Black Friday, keep a check on your wishlist to see what's in stock and what's not. Save items in your cart and add payment options beforehand- as and when you find the best deal, order it ASAP. Offline or online, angry shoppers wait for none!
7. No Kidding!
Oh come on now, would you lead your kids into a war zone? It's a bloody massacre out there! Okay, that was exaggerated. But seriously, don't take your kids for Black Friday shopping, no matter how much they eat your brains.
Instead, give them a sheet of paper and a pencil and tell them to note down things that they want. And when you're done with that, leave them at home!
Now you've got 5 more things to shop from the toys section, but no complaining little ones who are "too bored" to wait in line and "just want to go home". It's your call, but we think this Black Friday shopping tip can make your day.
8. Examine store policies
It's not only shoppers who go neck to neck on Black Friday- the commercial rivalry can benefit the customers to a huge extent. While many stores do not change their policies on Black Friday, but there's a hefty chunk that tweaks major policies in their favor.
The most crucial policies are the store's price-match and return policies. It is expected that most retailers would adhere to price-match policies, online and in-store too.
Almost every retailer sports a fair price-match policy, but many of them stall it on the occasion of Black Friday. Be sure to check their policies and read between the lines. Don't forget to keep the gift receipts if there's a return policy, everyone might not like what you choose for them this Christmas.
9. Carry your Coupons
Now that you've waited all this time for the Black Friday sale, you're shipping for a doorbuster deal or two to land in your lap. (Sometimes) Online Black Friday deals are as good as the in-store ones and coupons can help you save bigger.
Keep track of Black Friday special coupons on websites like Ebates and Groupon– you can also download the app and flash coupon code while your stuff gets billed.
My cousin bought a laptop online tagged at $599 for $400 because he referred Points.com (another coupon website) before checking out. It just takes a couple of minutes, but this Black Friday shopping tip is well worth the small hassle!
10. Who called it Walmart and not WarMart?
The best part about Walmart is that you get big discounts on almost everything…
…The worst part is that everyone knows about it.
Every year there are dozens of Black Friday injuries and casualties and most of them happen at Walmart stores. It's like Hunger Games out there; people kill each other just to win a $20 tea set.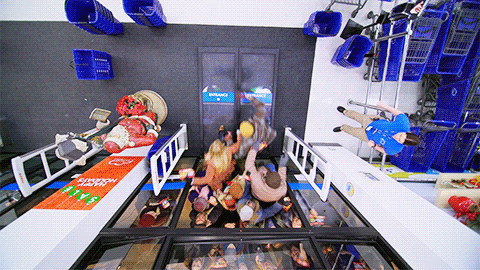 However if you're daring enough and plan to hit Walmart anyway, take care of yourself. If you got what you want, do not flaunt it. If someone's threatening you, lashing at you or anything like that- they clearly want it more then you. Let them have it.
This Black Friday shopping tip recommends that you stay out of that war zone and hit the Walmart online store instead. They offer the same deals there, and you don't have to risk your life for it.
11. Avengers assemble! Gather your mates
Although the thought of being a one-man army sounds heroic on a Black Friday sale, you've just got two hands, two feet and zero clones.
If you want to make the most of every Black Friday deal that's present in the store, tag along with your buddies. Shopping with your companions is double the fun and you're not bored while waiting in a long queue.
Follow this Black Friday shopping tip and gather your sidekick(s) – will it be Mr. and Mrs. Smith in pursuit of the biggest doorbusters?  Or will the Avengers save your wallet this Christmas?
12. Save yourself from Scams!
Although people are too busy shopping their hearts out and don't mean to hurt each other (intentionally), there's few bad sheep in every herd. From pickets to cart-snatchers to high-tech data embezzlers, scammers are omnipresent wherever you shop.
If you're shopping with a fat wad of cash, you're safe as long as you keep the money out of sight. But if you're carrying credit cards of any sort, make sure you get yourself an RFID-proof wallet to protect your RFID chipped cards from a data breach.
Stealing money is as easy as a touch, and these thieves don't even need to make contact with your plastics; be safe from any sort of thievery or scams. Keep your cash safe and your cards safer! This Black Friday shopping tip might save your credit score!
13. Tackle Doorbusters- or leave them be.
If you're too hyped to hit the local electronics market and get the flat screen TV for $50, you better have the grits and gumption to go all the way.
These doorbusters are not easy peasy- you'd have to duck in a stampede of 200 people, get what you want, and make it to the billing counter while dodging your prized possession from other shoppers who're as eager as you.
If you're not up for this, then don't risk yourself and your money- even I believe that it's too much work and I prefer shopping online. I hope that I find the same deal online though.
14. Stay Safe
Remember, no deal is worth risking your life for. You can slip while you're running for the TV set, someone can push you while they're fighting to get the same thing you want, or you might be the victim of a mass stampede.
So please follow the Final Black Friday shopping tip- keep yourself out of trouble and be safe. That is why I'd recommend shopping online over in-store shopping anyway. It's a mad world out there.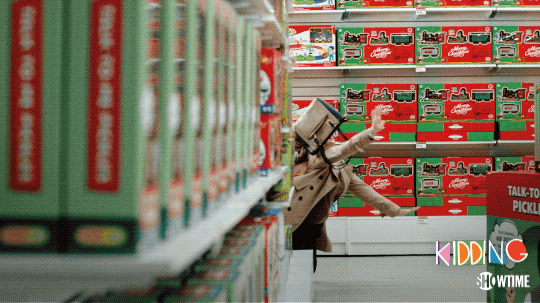 This was it, EBC's Ultimate list of Black Friday shopping tips. Follow this and you'll get what you want. Remember, Black Friday is all about Fun and Frolic- don't lose your mind over it!