It was the time when I had Everything but still had Nothing.
I actually owned 2 Vanity Bags worth Full of Makeup but still had nothing because my Makeup was either expired, broken or not according to the trend.
While throwing away various products I was realizing about how differently all of these could have been used, How I could have consumed these daily essentials before they went bad.
Well, after throwing away more than half my Vanity I Literally took a Vow to never let this happen to any other Girl, and here I'm; Making sure from all of my horrible experiences that the same never goes wrong with you.
Imagine the pain I was going through, where I had to watch my Favourite Lip Colour go to waste, Where I watched my guilty pleasure Foundation expiring.
But let's not focus on the bygones and instead start making our way through various hacks which I've listed down for you, all you have to do is Follow these points and brush away the load of Makeup from your wallet.
Watching 2 Broke Girls made me realize that even if you're Broke you can Definitely LOOK GOOD and How!
Well, I guess both of the Broke Girls Max and Caroline have registered themselves on ILoveSamples and Kardashian Beauty Samples, and get all of their makeup supplies for FREE!
So let's begin with various hacks on Ways to Save Money on Makeup and make the most of your earnings!
Note: Make sure that you don't miss out the Bonus Point!
What to do Before Buying Beauty Products
There are various important aspects that you need to take care of before you plan on going shopping for Makeup. Read them, Follow Them and Fall in Love with my suggestions. ?
1. Understand your Skin Type
This is a very basic and most required step for you to do before you plan on purchasing any Beauty product.
It is extremely important to know about your skin type so that you get the best of the products which will suit you and will last for a longer run.
Make sure that you ask about your skin type from Makeup experts present at beauty outlets at various stores or consult a doctor and understand your skin type.
If you cannot do these things and are still confused about your exact skin type then purchase those products which cater to All Skin Types.
You can also work on enhancing your natural beauty, simply order some amazing Truly Flawless – Skin Care products on huge discounts and get the natural glow.
2. Identify your Skin Tone
After understanding about your skin type you need to identify your skin tone. And in this case, only a beauty expert can help you.
It is important to understand your skin tone to get the exact shade of foundation, lipsticks, blush and everything that you want to use to enhance your beauty.
This is a simple step which you need to take once in a while (Well keep on checking for any tanning) and reduces your cost on beauty products by buying exactly what suits you in the very first place.
I suffered a great deal because of this and had to change 3 tubes of Foundation just to get my perfect match and alas, I was not able to get a refund on those 3 tubes.
Well, bygones are bygones; more important aspect is that we need to focus on your Skin type and tone before moving on to the next point.
3. Check Out your Entire Makeup Collection
Before you shop for more products or move on to the next point, make sure that you know about what you already own. I wasted away 2 of my Mascaras just because I wasn't aware that I already own a good one.
The sight of Dollars going to waste is definitely not a good one, so take out all of your makeup and spread it on your comforter category wise.
Then pick those products which have expired, you have to throw them away. Pick the products which are about to expire, as you need to consume them first.
But this does not mean putting on extra mascara and going bold with lip color, keep everything moderate and make sure that you use a maximum of what you can.
4. Do a patch test before buying
It happens often that some products might not suit you, so you need to test the product before buying it.
Step 1: You can simply put on the makeup that you're looking out to buy from a tester which is easily available at the mall.
Step 2: Go for a movie or shopping spree and let the makeup stay on you for a few hours.If you don't feel any irritation and your skin does not show any signs of allergy then only go ahead with that particular product.
See only 2 simple steps can save your hundreds of Dollars going to waste!
And also buying your products online from Sally Beauty is surely going to save a lot more money as there are great deals, sales and discounts for you. (That too not just for a season but for the ENTIRE YEAR!!)
How to Become a Smart Shopper
After covering the basics it's time to move on to the next category and make you a smart shopper.
5. Shop at Unconventional Locations
We often think that visiting a mall will solve all of our shopping needs at once but we neglect a very important aspect which is smart shopping.
Smart shopping sometimes might require you to buy different products from different stores but it surely will be pocket-friendly.
Dollar Store has saved me a great deal of money and has proved to the best place for me to buy beauty products and toiletries, especially for my entire family.
These places provide heavy discounts on the same products which you might be buying full price simply because you're shopping from an exclusive outlet or expensive store.
So, don't try to flaunt WHERE you bought your products from, and instead flaunt the expensive product that you got on a great Discount.
6. Buy in Bulk
This proved to be a lifesaver for me when I was rationing my daily routine essential products.
The things that you consume on a daily basis like Shampoo, Conditioner, Moisturiser, Body lotion should be bought in bulk and keeping in mind the needs of the entire family.
When you buy these kinds of products always opt for All Skin Type category and save a huge sum of money. Get a Free Prepaid Visa Gift Card from Bath and Body Works.
Purchasing a small quantity is more expensive unless the company is offering special offers on travel size products. Apart from this offer always go for the huge bottles and tubes.
(I feel like I don't even remember the last time I bought a moisturizer, my current tube has lasted for more than 2 months.)
7. Shop during Sales
Black Friday and Boxing Day sales are good examples of such days which offer you huge discounts on various products.
So, these sales have to be the time when you need to buy cosmetics in bulk and stock them for later use.
Only 1 thing that you need to focus on in this point is that do check for the expiry date, and purchase only those products in bulk in sales which last for a year or more.
8. Choose Less Expensive Brands
When you've planned to shop in bulk and in sales then can you also plan on an additional aspect which requires you to opt for lesser expensive products?!
Well, I certainly did this and am confident enough that you too can do the same.
While shopping, notice that the costly brands are kept on eye level and others are kept on top or bottom shelves.
If you like any particular shade but it is costly then ask from the sales executive about the similar shade in a different brand. (Trust me you will be shocked by the number of options that will be available in your hand)
9. Use Coupons
There are various companies which offer coupons on your regular purchases and also various companies which offer reward points on your purchases.
Using coupons when there are no ongoing discounts is the best option for saving money on makeup.
You can also checkout Coupons and Raise which provide an opportunity for you to get coupons at a discounted rate.
There are various coupons from different companies with great deals for you to purchase and use.
10. Use Corporate Discounts
Make the best out of working with good brands, there are various companies who have a tie-up with different brands in the market place which provide discounts to the employees.
Check from your teammates and higher authority and get to know about any such corporate tie-ups.
Things you need to Focus on
A few of the aspects that we know about but sometimes ignore
11. Sell Unused Makeup
A lot many times it has happened with me that either I don't like the products that others gift me (Typical Rachel Behaviour that I portray, all thanks to F.R.I.E.N.D.S) or I buy products but later realize that they don't satisfy me.
I'm sure you too must be having a few products lying around, reaching its expiry then please do take them out and SELL them away.
What better way to save money on makeup by literally Making some money selling the unused products?!
12. Check out the Expiration Date
Sometime back I bought a nail color which was about to expire in a months' time.
And you might ask How I realized about its expiry?
It was the time when I left it in direct sun and it completely dried out and went bad.
The expiry of my latest bought nail paint was a big-time shocker for me as most of the times nail colors are one such element which last long.
So guys if you ask me What are the Ways to Save Money on Makeup?!
Simple Answer: Check for EXPIRY Before BUYING.
13. Use Loyalty cards for Purchasing Makeup
Various companies provide benefits for their loyal customers, be it Birthday Month discount, reward or coupons on the purchases that you make.
Make the most of these offers and enroll yourself in these loyalty programs which are free of cost in most of the cases.
14. Checkout Reviews Online before Purchasing any Product
When almost everything that we need is available online then why not check the reviews of the products that you plan on purchasing.
These reviews offer you insights about the good and bad things about the product, what is the best way to use them and how to make them last longer.
You have to ask the question and answer will be on your laptop or mobile screen.
And I too have a review to offer you with personal care products which are so amazing that you'll literally feel like EATING them.
Check out these bath and beauty products at Nectar and DO try out the best sellers rolling out on great discount deals.
15. Become a Product Tester
A great way to try out new products and get free samples is through becoming a product tester.
It's difficult to get a spot as a beauty product tester, but if you manage to get on the list then you can get for yourselves a whole lot of free stuff.
Brands provide you their products free of cost and in exchange ask for your honest feedback.
16. Buy Off-Season Products
Commonly known as the end of season sale, a lot many brands offer heavy discounts on products after its trend ends.
This is the most appropriate time for you to buy products and save lots of money on makeup.
Don't worry about not being able to follow the latest trend because you can mix and match and blend in different shades together.
And also, you need to focus on the fact that according to your skin tone and comfort you need to pick the right colors. (Nobody likes to look like a clown at the office or in a party)
17. Find a Substitute for your Favourite Product
Another option on how to save money on makeup introduces a chance of substituting your favorite product with the one offering the same benefits, color texture, usage etc but from a different brand.
Many brands make almost the similar shades for lipstick, highlighter and other such products, you only need to have a good eye in identifying them, testing them and then using them.
While planning on switching products you need to focus on:
The substitute product you are buying should be at a way lower cost as the difference in cost by a few pennies won't do any good for you.
You should not be allergic to the substitute product, so I recommend that you do a patch test before buying the substitute product.
The last, important and valid point is that you should never compromise with your looks just because of a few bucks.
I sure am asking you to buy a substitute, but only when the new product is matching at least 90% with your original favorite product.
18. Join a Rewards Program
A great way to save money on makeup is to join the rewards program for your favorite stores.
Many stores such as Ulta (with their Ultamate Rewards)and MAC (with their MAC Select loyalty program) have programs that are free for you to join and start giving you rewards regardless of how much you spend.
Many other brands like Sephora (with their Beauty Insider program) and Smashbox give you rewards that are based on your purchase.
Hacks for Better Use
19. Make your own Makeup
With everything going organic it will prove to be a very good option to make your own beauty products at home.
Tutorials on "How to make these beauty products" are available online with all the ingredients and step by step instructions.
Concealer, blush and lipstick are the easiest of the products that can be created from scratch at home. (This proved an amazing DIY fun activity for me, which now I guess has turned into a hobby)
20. Use quality makeup brushes (NOT the Costly Ones)
Not everything that is costly is of good quality, or just one option available that you want.
A good practice for you to buy the best products at once will be checking for various feedbacks online before purchasing.
Don't fall in the trap of getting a matching set of brushes which are extremely costly but go for the cost-effective ones;
You don't want to feel sad about throwing them out once they caked up in makeup.
21. Revive Old Makeup
It happens so that eye shadow breaks down or Mascara dries up for no good reason.
But still, even if your makeup gets damaged, you should NEVER ever think about throwing it away.
You will find various tips on the internet about how to revive your makeup at home and the best part is that all of these hacks cost almost nothing.
You can revive your makeup to the extent that you still can use your broken lipstick. All you have to do is type the magical words online and seek for answers.
You can ask me about the same as well, drop your questions in the comment section.
22. Less Is More
Putting on too much Eyeliner, too much Concealer, too much Highlighter is like overcooking your meal, which is not at all required and ruins your end result.
Focus on keeping your makeup at minimal, as Less is More is the ongoing trend which is sure to stay for long.
Use a brush to apply makeup instead of a sponge, as a sponge absorbs most of the product. So if you want to reduce your applied makeup then only bring in the sponge for help.
You will make your products last longer by not overusing them, hence contributing to saving money on Makeup.
For even more lesser usage of makeup you can focus on making your skin healthier, so along with eating right you also need to use the right products for your skin.
This amazing selection of Moisturizers, Serums, Toner and Exfoliator from BEAUTYBYDESIGN, makes sure that your skin regains the natural glow, so checkout their amazing products at discounted rates.
23. Don't let your makeup get ruined
Often makeup gets destroyed because of rough usage and in order to spend less on makeup you need to take care of your products.
Follow these tips and make your makeup last longer:
Never keep your cosmetics in direct sunlight.
Keep your makeup brush and sponge clean to make it last longer.
To prevent compacts from breaking in your bag, put a cotton ball inside.
Never pump air in your mascara tube, instead swirl it for removing lumps.
Keep your makeup in a separate section of your purse or in a small pouch. Prevent your makeup from falling down.
24. Try your makeup before purchasing it
Even if you're replacing a previous product with a new one, the first thing that you need to do is try out the product.
Companies keep on changing color shades and keep on enhancing their products with new stock.
Don't fall in the trap of product codes, try once and then only buy the new product, it will keep you satisfied with the product and will save your money on makeup. (You don't want to end up buying the wrong shade and waste your money)
25. Return your GENTLY Used Makeup
I'm simply in love with the 30-day exchange policy, which allows you to return your gently used products.
So even if you bought a product at a store and after reaching home, seem to have changed your mind for the same then you can get it exchanged.
Well for this situation the policies of various stores and products is different, so you need to check about the policies and then only ask for an exchange.
We need to focus on saving money on makeup in whichever way it is possible.
Bonus Points:
26. Buy from Blog Sales
With everything going online blogging is one such aspect which has increased drastically.
The benefit that we get in saving money on makeup is that there are various beauty bloggers who not only help us learn the latest trends but also share advertisements of various brands.
These advertised brands often offer sales, coupons, rewards and discounts.
27. Use Samples
ILoveSamples and TheFreeSamples have turned into a hobby of mine after being my guilty pleasure. You simply have to register on these websites and get free samples of various products delivered at your home.
You can register yourself on Kardashian Beauty Samples, and get free samples of makeup. This not only offers you free of cost products but also lets you experiment with new products.
28. Win a Contest from Makeup Bloggers
As I told previously that the trend of blogging is increasing day by day along with its perks. The best perk to come along with blogging is that these bloggers often provide free of cost products along with beauty tips.
These bloggers also run various competitions which have good rewards to offer. In my vanity, there's a Lipstick, Body lotion, night cream and a Mascara which I won from these contests.
29. Ask for gifts from friends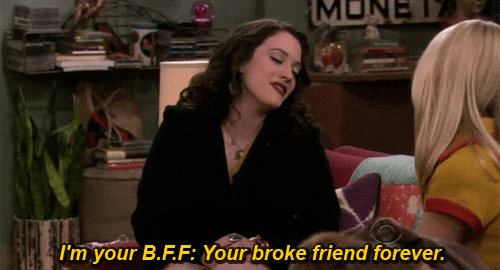 When the question popped up in my mind about "How to Save Money on Makeup", then this point was the very first solution that surfaced.
On your Birthday, Anniversary, Friendship Day and other such important days your friends are going to surprise you with gifts any which way.
So, for these important days, you can make a simple pact with your best friends that you list down all of the beauty products that you're in need of and ask your friends to buy gifts from that list.
Extend this trend amongst your Family and Work friends as well. This is a trend that has helped me A LOT in saving money on makeup.
Suggest them to buy makeup and other beauty products online from Sally Beauty and save a huge amount on your purchases.
To Blush it up:
You need to focus on being Beautiful and Confident and this process absolutely involves saving money on makeup.
So, use coupons, get your reward points and shop for products, experiment as much as you want.
Watch out for deals and buy beauty products at a discounted rate and never throw out the damaged products, instead try to revive them.
Note it girls, these are words of wisdom to help you save money on makeup and look your best at a minimum spend. ?